Vintages
Image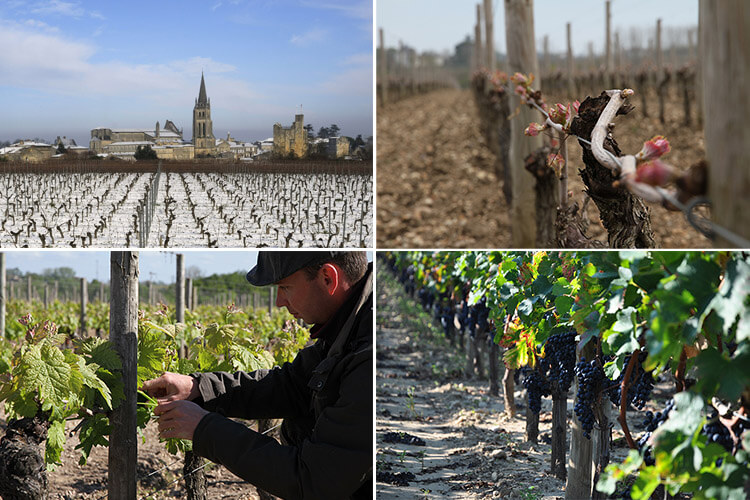 There are exceptional vintages, some that will age for decades, and others that are perfect for early consumption, but each has its own unique character. Sometimes patience is required, but sometimes just a few years suffice to elicit great pleasure.
Below you'll find an introduction to the vintages that have stood out for us over the past 45 years. Keep in mind that we produce wine for your enjoyment, so sometimes it may be necessary to experience the wine and decide for yourself…
2015 A vintage characterized by heat and sun, the wines produced in Pomerol and Saint-Emilion are exceptional for their fruit, depth, and balance.

 

2014  Despite a variable Spring, a glorious Indian summer ensured the quality of the vintage.

 

2013 A most capricious vintage that resulted in pleasant wines thanks to tremendous efforts undertaken in the vineyards and in the cellars.

 

2012 A temperate year allowed for even maturity, producing complex and balanced wines.

 

2011 With the difficult task of having to follow two of the strongest vintages in the history of Bordeaux, the 2011s are remarkable for their vibrancy.

 

2010 Very different from the preceding year, the wines are extraordinarily complex and deep. How beauteous is nature when it is bountiful!

 

2009  One of the greatest vintages of the past 60 years. Its power and natural concentration ensure 2009 will be a benchmark for many years to come.

 

2008  Patience and perseverance were needed, with a wet and late start, an average summer, but a wonderful indian summer that allowed the grapes to attain perfect maturity. Some exceptionnal viticultural successes.

 

2007  A vintage of challenges, with a very warm spring, a wet and cool summer and a beautiful month of September. The early maturing terroirs appear to have had an advantage. A reminder of Mark Twain's expression: "Climate is what you expect, Weather is what you get".

 

2006 A vintage of contrasts, with a succession of gloomy and sunny periods over the summer and early fall. Merlots were harvested early and under clement skies.

 

2005  A vintage blessed by the gods. Superb summer, dry and hot, but not excessively so. An ideal harvest. A general success over all varietals and appellations.

 

2003  A vintage of climatic excesses. Some grapes were sunburnt, creating atypical wines. Attentive and cautious growers succeeded in producing rich wines with considerable promise. A particular success in Médoc and for the clay soils of Pomerol.

 

2001  A classic year underestimated after the fanfares of 2000. The wines are remarkably balanced and already delicious.

 

2000  A banner year. Powerful, structured wines that are worth the wait.

 

1998  A particular success for the Right Bank thanks to a sunny harvest after a very beautiful summer. Some excellent wines.

 

1995  A true Bordeaux classic, allying elegance and nobility. Great wines are worth the wait. The others are delicious to drink.

 

1990 A vintage of extreme heat, rich in alcohol. Its seductiveness makes this vintage a favorite amongst numerous wine amateurs.

 

1989 A classic vintage and very early (Pomerol harvested early September). Slightly more austere than the 1990, it remains one of the best vintages of the 20th century.

 

1982  An almost perfect year. Despite the abundant harvest, the wines have kept an infinite charm.

 

1975 A dry year of little quantity. Many promising hopes were dashed by a persistent astringency. A few exceptional successes in Pomerol.

 

1970  The first vintage of 'Modern Times.' Vine cultivation came out of decades of difficulty. Classic wines.
Personal comments by Christian and Edouard Moueix