Vineyards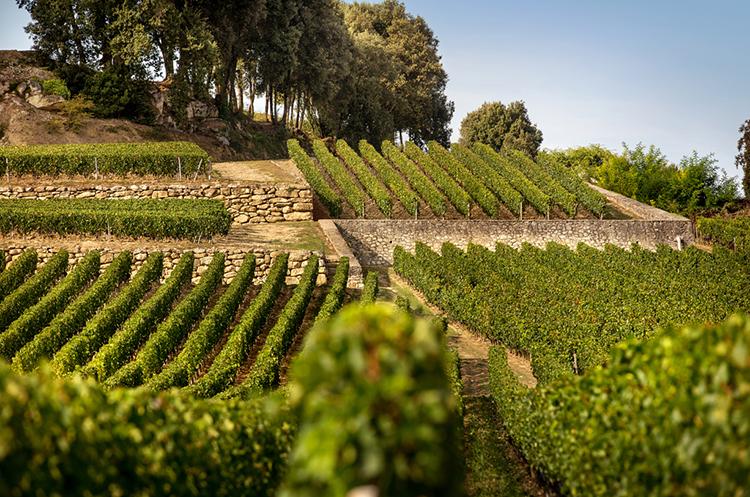 The philosophy of the Ets. Jean-Pierre Moueix is simple: to produce exceptional wines, one must start with great fruit, possible only by cultivating impeccable vineyards and exercising the utmost respect towards nature.
In the vineyards, the Director of Properties and his large team of permanent vineyard workers tend each vine with care, monitoring each by hand throughout the year. There is a considerable focus on soil health and maintenance using precise plowing methods. During growing season, the desire to achieve the highest quality can entail reducing the size of the crop through de-budding, canopy management, green harvests (practiced by Christian Moueix for the first time in 1973), and other meticulous selection processes.
At harvest time, two troops of seasoned harvesters provide the manpower and flexibility to handpick the grapes at optimal ripeness.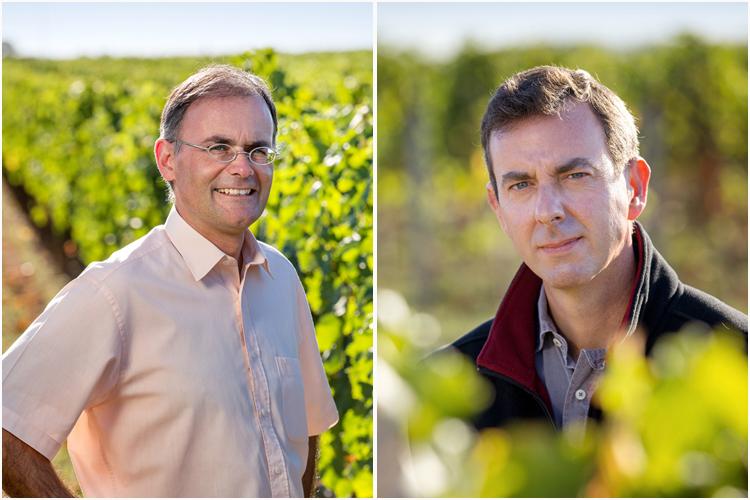 At this critical time of the year, a family spirit reigns. Nearly half of the harvesters have picked grapes in Ets. Jean-Pierre Moueix vineyards for many years, some for over twenty vintages. They are chosen for the quality of their work and are embraced as members of the Moueix family as they pick, eat, sing, dance and celebrate each day of the harvest. More than a handful of parents have brought along their younger generation, making the harvest a family affair in more ways than one.
In the winery, the Technical Director and his team of experienced cellar workers follow a time-honored approach. As the quality of the grapes is established in the vineyard and during the harvest, the objective in the cellars is to produce wines that express a sense of place, that are pure, honest, balanced, complex and, above all, pleasurable to drink.
Vinification and aging are deftly tailored to the specific characteristics of each parcel in order to best preserve the character of the fruit and the nuances of each block.  The cellar master manages the aging to harmoniously integrate the characteristics of each barrel with every individual lot.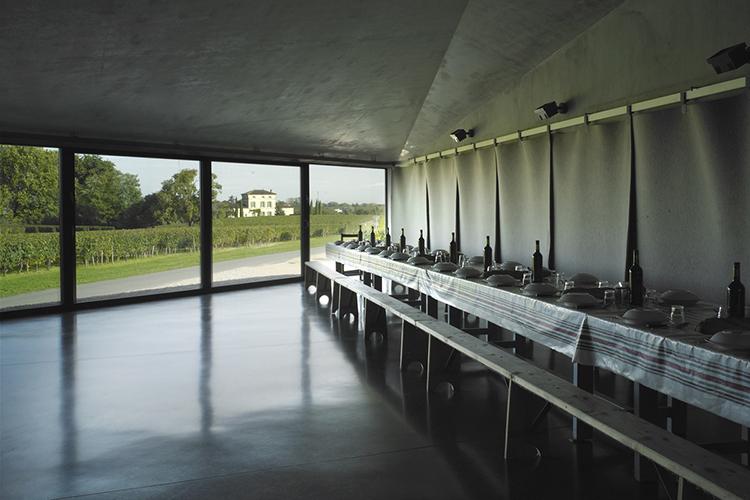 En 1997, les architectes Suisses Herzog & de Meuron ont réalisé le chai de Dominus Estate (Napa Valley). Avec sa structure longiligne, l'immeuble semble se fondre dans le paysage, effet intentionnel qui souligne l'importance du vignoble dans l'élaboration de grands vins.
En 2002, Herzog & de Meuron ont construit un réfectoire moderne au cœur du plateau de Pomerol à La Fleur-Pétrus. Fusionné avec un bâtiment classique existant, la structure de béton et de verre constitue le centre stratégique des domaines Jean-Pierre Moueix pendant les vendanges, et permet au Directeur des Propriétés et à son équipe de maintenir une supervision rapprochée toute l'année. Le réfectoire accueille également tous les repas et fêtes de vendanges, ainsi que les grandes manifestations tout au long de l'année.
Cliquez ici pour visionner un plan des vignobles familiaux Jean-Pierre Moueix à Pomerol et Saint-Emilion.