ACTIVITIES: WINE MERCHANT AND PRODUCER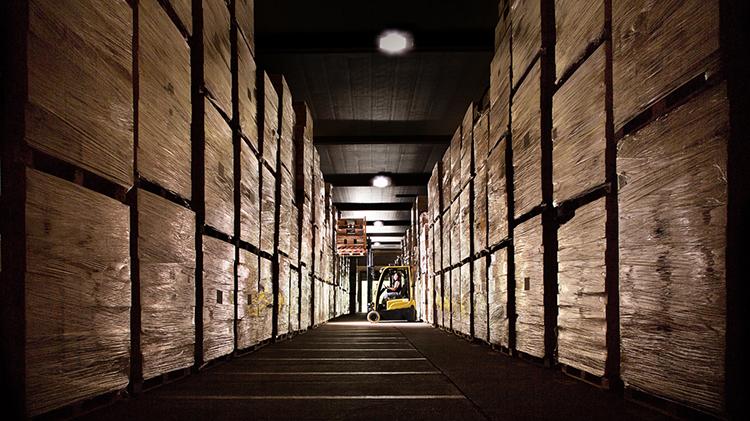 Ets. Jean-Pierre Moueix and its sister company Autres Rivages enjoy 80 years of experience in selecting the finest wines of Bordeaux for distribution worldwide. Both entities operate as traditional wine merchants ("négociants"), offering wines either as futures ("en primeur") in the spring following the harvest or after several years of aging.
Additionally, Ets. Jean-Pierre Moueix owns and produces some of the most renowned crus of Pomerol and Saint-Émilion in France, and Napa Valley in California.  Information on the family vineyards can be found in the Vineyards section.
All wines sold through Ets. Jean-Pierre Moueix and Autres Rivages are purchased directly from the châteaux prior to their storage in the Libourne warehouses (270,000 sq. ft.), where several million bottles rest peacefully in ideal conditions. The company is thus able to guarantee perfect traceability for each bottle shipped from the Quai du Priourat.
Among the largest wine merchants on the Right Bank of Bordeaux, Ets. Jean-Pierre Moueix currently serves more than 500 wholesale clients in over 60 countries across 5 continents.
ETS. JEAN-PIERRE MOUEIX: THE RIGHT BANK OF BORDEAUX 
Ets. Jean-Pierre Moueix distributes fine wines from the most renowned appellations of the Right Bank, primarily Pomerol, Saint-Émilion and Lalande-de-Pomerol.
In addition to the family vineyards in Bordeaux, over 20 prestigious Right Bank châteaux also entrust Ets. Jean-Pierre Moueix with the exclusive distribution of their wine.  These châteaux, renowned for the quality of their wines, represent relationships which have been built over many years, and often generations.  Details on these properties can be found in the Exclusivities section.
AUTRE RIVAGES : BORDEAUX LEFT BANK AND CALIFORNIA.
Autres Rivages was established in 2000 as the Left Bank counterpart to Ets. Jean-Pierre Moueix. Autres Rivages distributes the finest wines of the Médoc, Graves, Sauternes, as well as the wines from the family vineyards in Napa Valley: Dominus, Napanook, Othello, and Ulysses.