Press : the 2015 vintage «in the bottle»
Image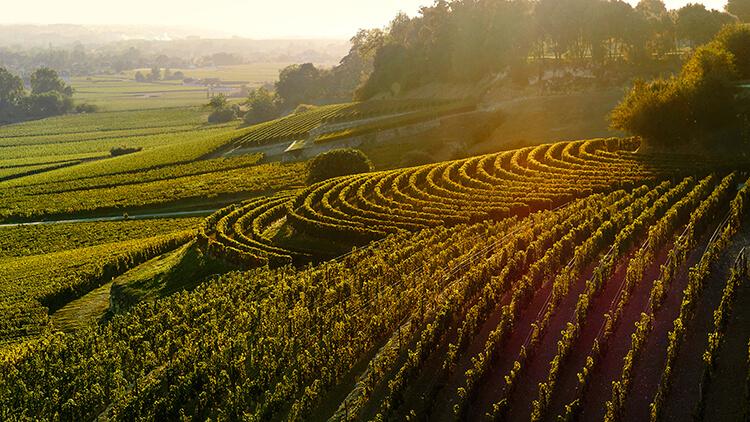 "Viens, le soleil te parle en paroles sublimes"
("Come, the sun beckons in exquisite tones »)
This verse, selected by Christian Moueix to characterize the 2015 vintage, is drawn from the poem « Midi » (« Noon ») by Leconte de Lisle in which Man is invited to luxuriate in the noon-time summer sun, in "divine nothingness", before returning to his mundane preoccupations.
In bottle, the 2015 vintage wines are rich, enveloping, silky, radiant, powerful. Clearly reflecting this sun-soaked summer's hot days, they also owe their balance to its cool nights, which allowed the grapes to reach near optimal maturity and thus produce these enchanting wines.
The Jean-Pierre Moueix vineyards have been particularly spoiled these past few weeks, as the "in bottle" impressions of the 2015 vintage by several journalists were published.
Here are a few excerpts:
Château Bélair-Monange
James Suckling, 100 pts : "Blue fruits, minerals, lavender and licorice aromas are wonderful. Full body and ultra-refined tannins with an integration and refinement that make the wines seamless and beautiful. The powerful tannins hide from you at first, but what structure in the end. It goes on for minutes. ».
Wine Advocate, Lisa Perrotti-Brown, 98+ pts: "Full-bodied, rich and opulent in the mouth, the palate reveals an arresting backbone of exquisitely ripe, very firm tannins and sparks of background acidity lifting and defining the rich, densely packed layers, culminating in an epically long and multifaceted finish. Possessing its own compellingly beautiful signature, this is a remarkably riveting wine that should not be missed."
Decanter, Jane Anson, 97 pts: "This is a stand-out wine, poised and silky but still in the Moueix muscular house style in 2015. Tannins are fully present and fully committed. In the glass, the floral side opens up, and there's impressive salinity on the finish where you can practically lick the limestone. Excellent; one to put away for eight to ten years."
Wine Spectator, James Molesworth, 96 pts: "A charcoal and tobacco underpinning gives this energy, while the core of steeped plum, blackberry and black currant fruit unwinds slowly. Shows grip but remains very refined in feel overall, with a beautiful chalky thread adding nuance to the finish. This is lovely, but with some sneaky power in reserve. Best from 2023 through 2040. 2,398 cases made.- JM"
Château Trotanoy:
James Suckling, 100 pts: "Breathtaking aromas of perfectly ripe fruit with blackberries, black olives, licorice, cedar and sweet tobacco. Full body, incredible depth and power, yet this is always in reserve and check. Everything is in the right place for this new legend from Trotanoy."
Decanter, Jane Anson, 98 pts: "The power of this Trotanoy is unmistakable, and there is no question as to its confidence and poise. It showcases layer upon layer of graphite, liquorice, damson, slate, black cherry and cassis. There's fresh lift on the finish, and tannins that play with you for as long as you let them. Put this away for a decade."
Wine Advocate, Lisa Perrotti-Brown, 97 pts: "The 2015 Trotanoy reveals a medium to deep garnet-purple color and comes prancing out of the glass with the most striking black fruit preserves, plum pudding, red currant jelly and blueberry compote notions, followed up by nuances of rose petals, chocolate box, licorice and menthol plus a waft of wild mushrooms. Full-bodied, rich and decadent, it fills the palate with generous perfumed black and blue fruit layers with a seductive frame of velvety tannins and seamless freshness, finishing very long and very minerally."
Wine Spectator, James Molesworth, 96 pts: "This is laden with fig bread, ganache, smoldering tobacco, warm currant confiture and fig paste aromas and flavors that rumble through a charcoal-tinged finish. Dense, but the grip is thoroughly melded with the fruit, giving this a very composed feel through the lengthy finish. Best from 2024 through 2040. 1,718 cases made. –JM"
Château La Fleur-Pétrus:
James Suckling, 99 pts: "The aromas to this are stunning with lavender, rose petals, walnut skin, strawberries and raspberries. Captivating. Full body, layers of polished tannins and perfectly ripe fruit. Dense and very long. Breathtaking classicism."
Wine Advocate, Lisa Perrotti-Brown, 96pts: "… Notes of tilled soil, black olives, charcuterie and dried Provence herbs over a core of preserved plums, black cherries and black raspberries with touches of tar and new leather. Full-bodied, rich, plush and seductive in the mouth, it finishes with persistent, slowly revealing earthy/savory layers, which will keep you reaching for another glass."
Decanter, Jane Anson, 96 pts: "The soils here are gravel and deep iron-rich clay, and this wine captures the Pomerol sexiness that is such a pleasing signature of the appellation, but in a complex style with densely layered dark fruits and tiny pulses of acidity – a beautifully seductive experience. I love this wine."
Wine Spectator, James Molesworth, 95 pts: "Warm ganache, fig bread and blackberry compote notes give this a fleshy feel. Loam and warm espresso details glide underneath, further accentuating the dark profile. Shows ample drive and energy, with graphite and roasted alder elements and fresh acidity coursing through. Serious juice. Best from 2025 through 2040. 5,133 cases made. –JM"
Château Hosanna:
James Suckling, 98 pts: "This has the wow factor; it's very impressive. The nose is saturated with dark, rich plums and wet-earth aromas, not to mention the roasted-coffee and crushed-violet undertones. The palate has polished, lustrous appeal, and dark plums and ripe blueberry flavors abound. Long, deep-set tannins with incredible depth. This has x-factor depth and elegance."
Wine Advocate, Lisa Perrotti-Brown, 97 pts: "Charging out of the glass with an exotic perfume of smoked meats, truffles, sandalwood and Indian spices over a compelling core of cherry cordial, blackberry tart and blueberry compote plus suggestions of garrigue and rose hip tea. The full-bodied palate is absolutely laden with taut, muscular black and blue fruits, with a solid frame of grainy tannins and just enough freshness, finishing with languidly lingering licorice and spice flavors. Incredibly seductive and just plain delicious right now, hedonists can enjoy this captivating wine while it's relatively young, while traditionalists can wait ten years and drink it over the next 25 years or more."
Decanter, Jane Anson, 95 pts: "Another muscular wine from the Moueix stable in 2015, showcasing the strength of Merlot grown on gravel and clay soils in Pomerol. This is excellent, majoring on liquorice, cigar box, graphite and brambled fruits. A wine that will age very slowly and reward patience."
Wine Spectator, James Molesworth, 94 pts:
"Fleshy and inviting, featuring warm fig, boysenberry and blackberry pâte de fruit notes laced with ganache and tobacco accents. Long and especially velvety through the finish, with waves of fruit and ganache in lockstep. This will have fans for sure. Best from 2022 through 2035. 1,030 cases made.
–JM"